COLD STORAGE ASSEMBLY PROCESS
What is cold storage?
Cold storage is the space with an insulated structure and equipped with air conditioning systems, indoor units, coolers and freezers for long-term preservation and storage of goods, which need to be preserved at low temperatures and keep the best quality.
Fresh food, agricultural products, aquatic products, seafood or fruits and vegetables are products that are easily affected by external temperature and environmental conditions. Therefore, using cold storage is an optimal solution to avoid goods damage.
Currently, cold storages are widely applied in industrial parks, processing plants, warehouses as well as households, which can show that cold storages play an important role in production and business.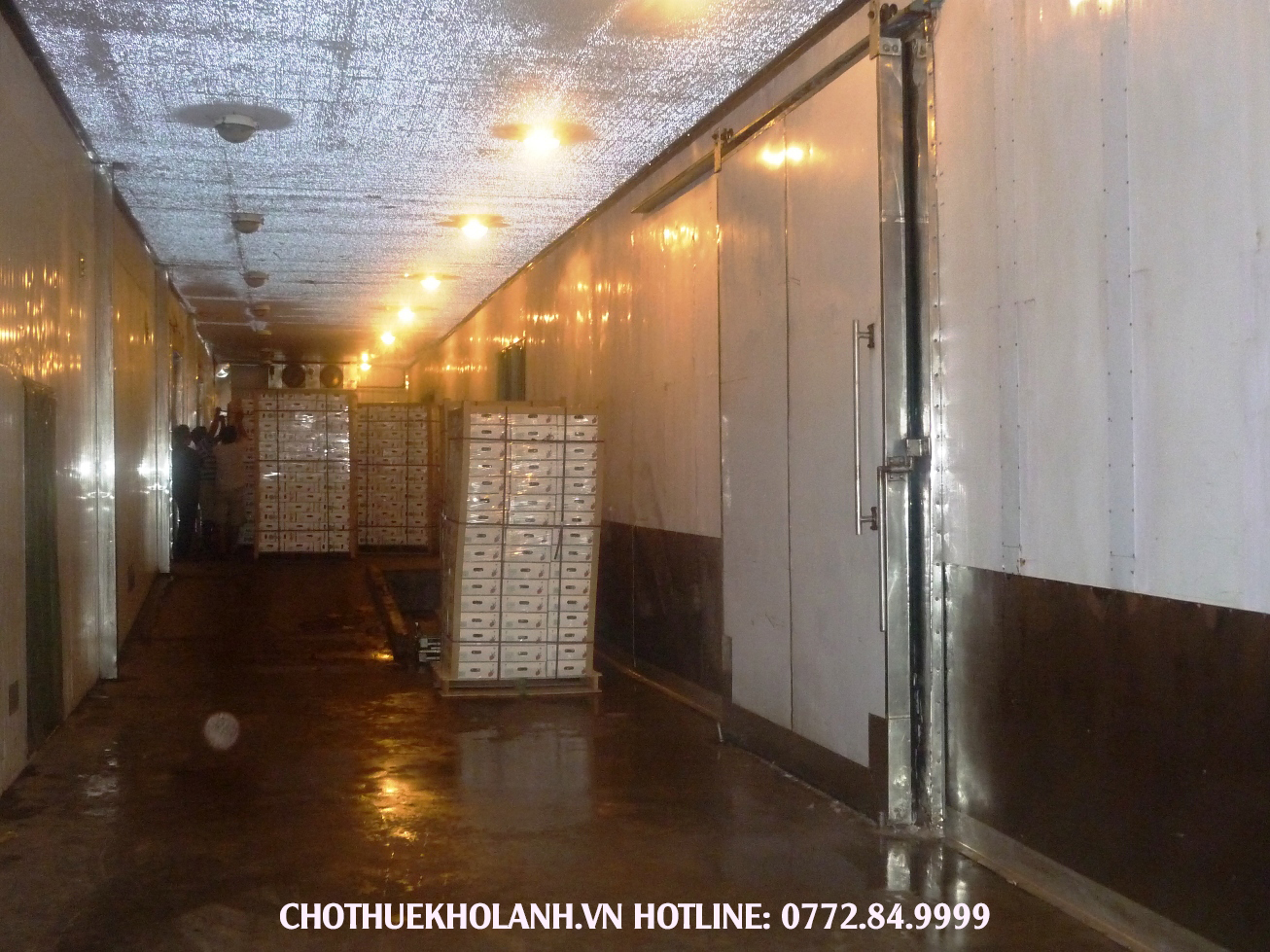 Cold storage installation process
A standard cold storage is a cold storage that ensures quality standards in many different stages such as humidity, air, temperature, warehouse floor, etc. In order to have a standard and qualitative cold storage, the installation process is required to meet the right standards.
Step 1: Prepare the ground and check the flatness
This is considered the first important prerequisite because if the ground is not flat, it will be very difficult to do business later, affecting the warehouse owner as well as the preservation of goods.
Use a water gauge or ruler to check the flatness of the cold storage floor.
If there are many inappropriate positions or the height difference is more than 5mm, then proceed to correct and overcome those deviations to avoid obstructing the Panel installation later.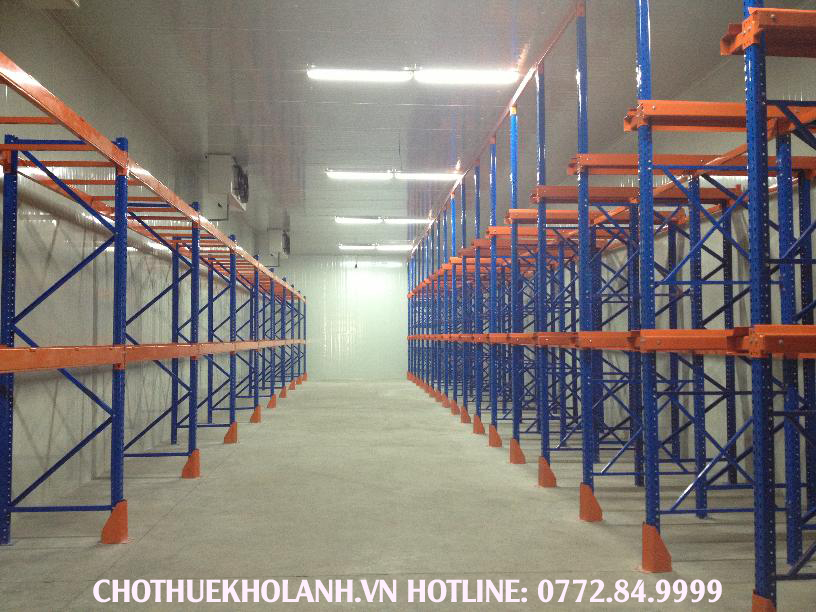 Step 2: Install the cold storage shell
For the cold storage concrete durable part: Use bitumen, nylon sheets and oil paper arranged in layers in accordance with the drawing to prevent moisture and PU or EPS panels arranged next to each other to insulate.
Install a ceiling-mounted system (large cold storages, ceiling panel length>=3.6m), Ceiling panels are hung on the ceiling of the warehouse.
Install Panel: It is necessary to check the strength of the frame before installation. Cold storage panels are PU insulation panels (40kg/m3), uniformly sprayed, tightly bonded between the two sides by anti-rust Tole. Panels are linked together by Camlocks.
Install corner bars and welding silicone: Use silicone to seal the gaps and joints of the whole warehouse. Opaque silicone is used for warehouses with colorbond tole-coated panels. Composite, transparent type is used for stainless steel coated panels
It is necessary to peel off the protective film on both sides of the gap before firing silicone into the gap between the two panels.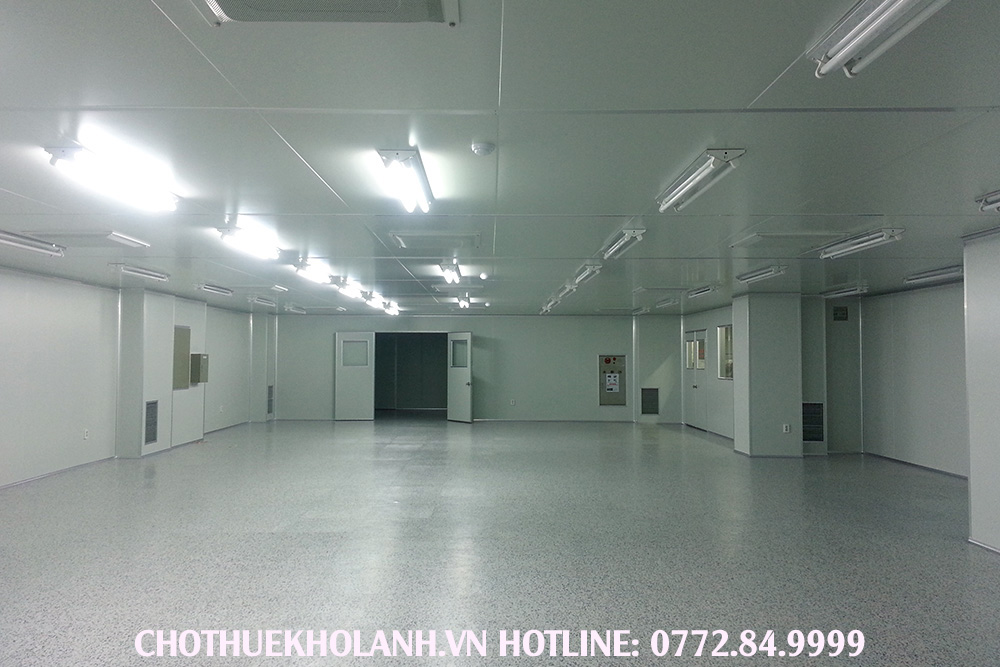 Step 3: Attach the cold storage door
Install hinged doors
- Make sure the hinge lock must be firm when installed (close and open gently and comfortably)
- Joint is cold, does not release steam to the outside.
- Heating resistor must work well when the warehouse is operating.
Install sliding doors
- The sliding mechanism must be very firm and the sliding should be smooth.
- The pushers must be firm.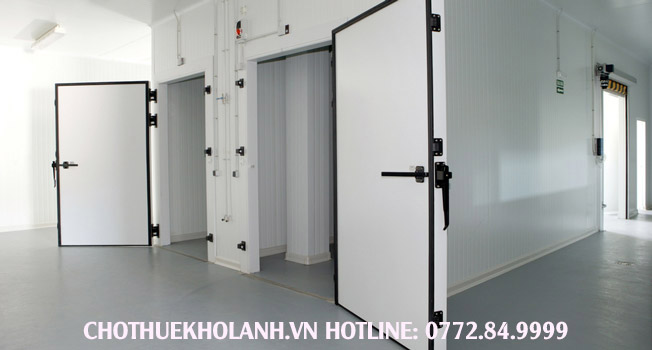 Step 4: Install the pipe
The pipes before installation must be thoroughly cleaned. They must go perpendicular or parallel to each other. These pipes must be fixed tightly on the support, the bottom has wooden cushions, heat-resistant rubber, etc.
The pipes must be insulated with superlon or poured foam.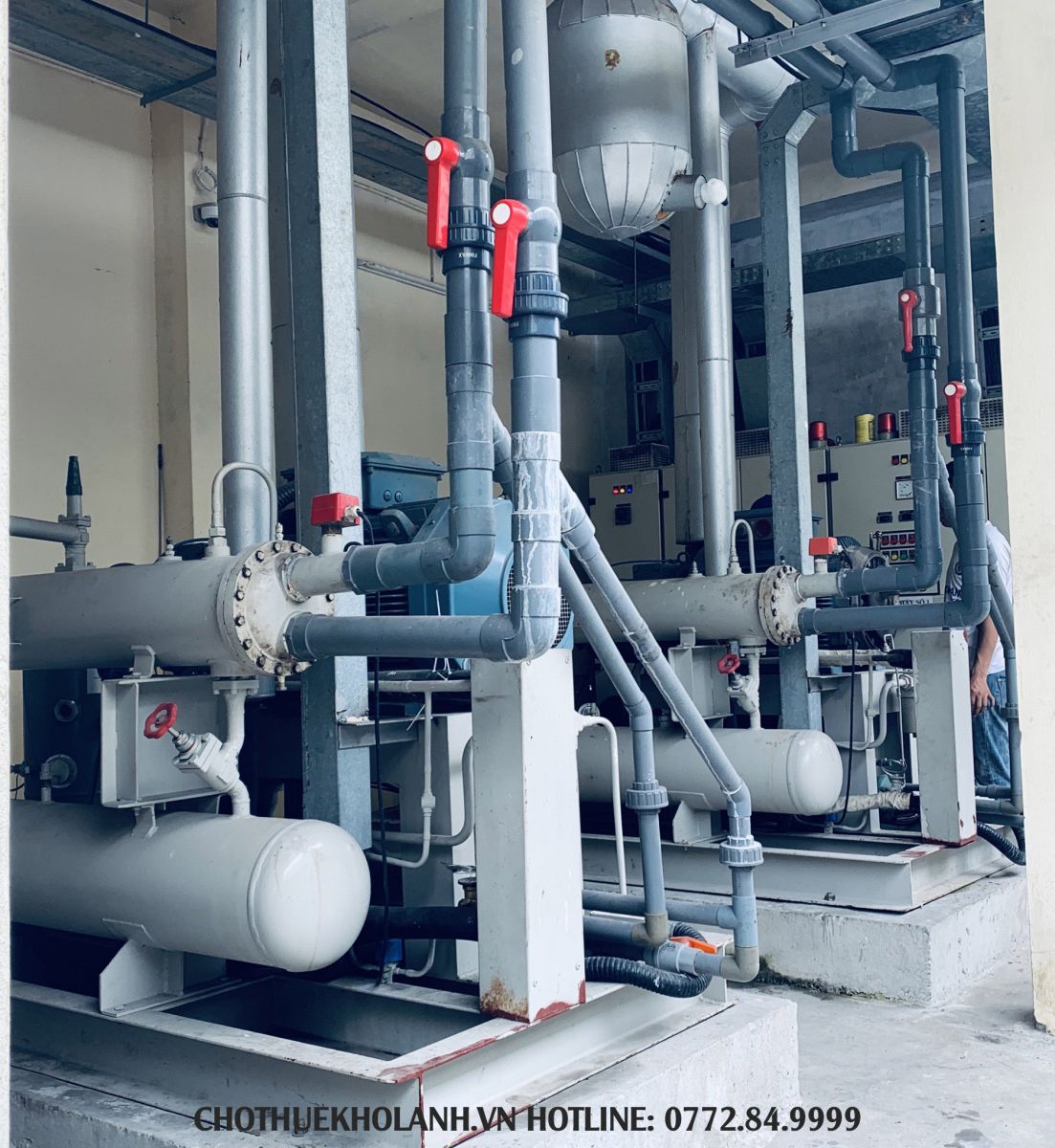 Step 5: Install the cooling system
Equipment must be properly and fully installed according to the principle diagram & equipment layout drawing.
Condenser compressors, water pump and cooling tower must be installed on iron frames or concrete foundations with a height of 150mm or more. Concrete frames or foundations must be flat and have drainage ditches.
It is necessary to make a protective cover for the machine cluster, cooling water pump in case of outdoor placement. The compressor should be placed lower than the indoor unit.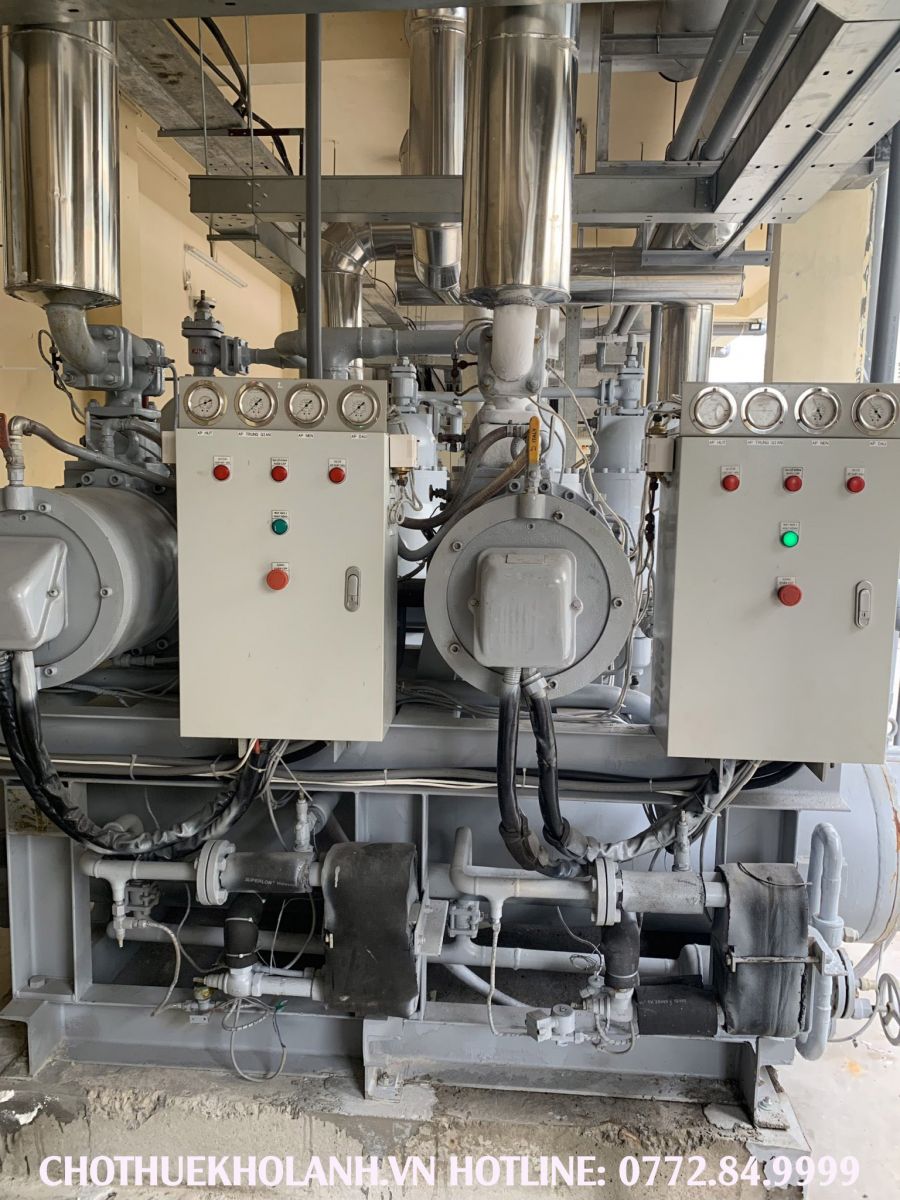 Step 6: Install the electrical control cabinet
The electrical cabinet must be installed in a cool and moisture-free place, convenient to operate. Wires must be run in electric pipes or electric ladders and must be arranged neatly, fixed to the ladder by drawstrings. Power lines must not pass through areas with high heat generation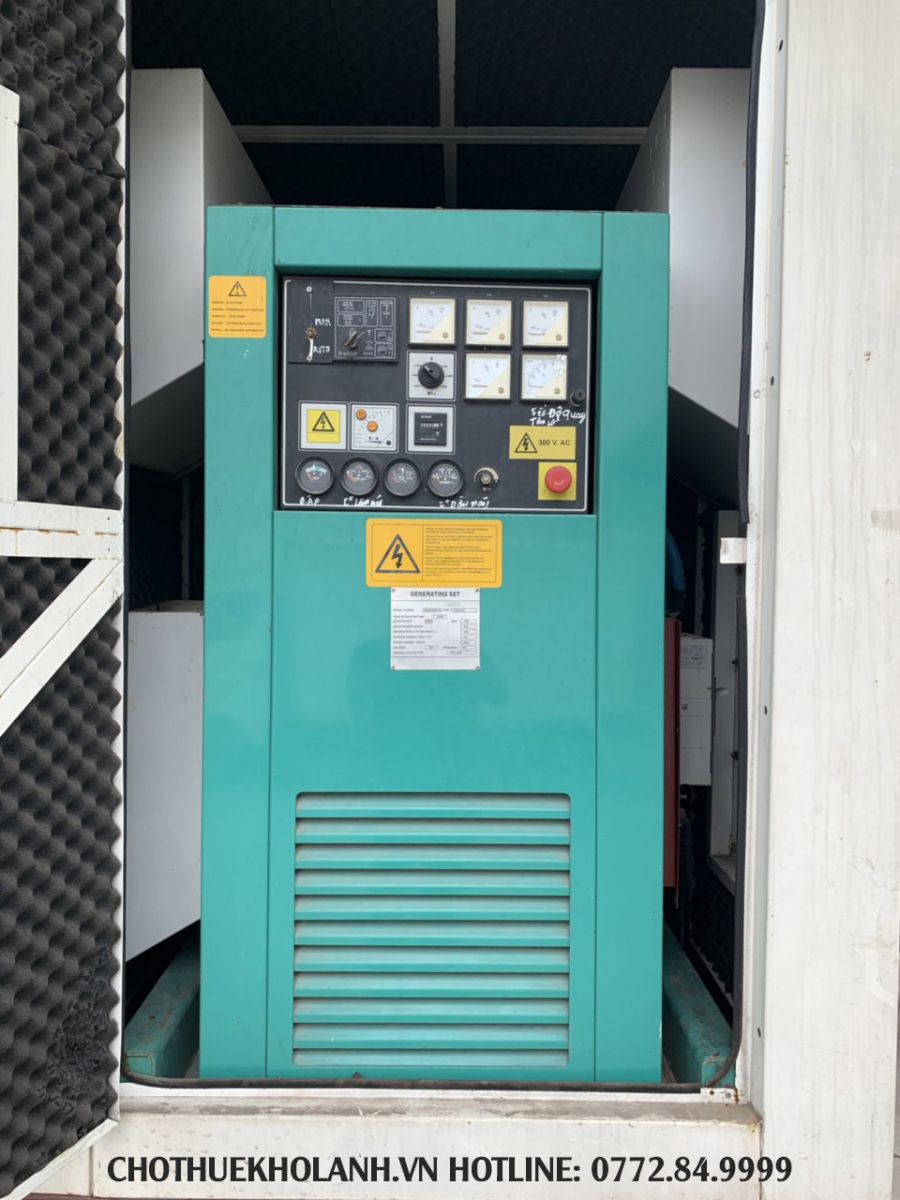 Step 7: Finalize and check
Finish mounting of aluminum V-bars for inside and outside corner joints, Camlock keyhole buttons. Install cold storage doors according to the manufacturer's assembly instructions.
Attach warehouse accessories such as balance valves, temperature gauges, alarm bells, cold storage lights, bell switches, lights, etc. to the correct positions according to the design drawings.
Check the joints of the whole warehouse and shoot silicone gaps.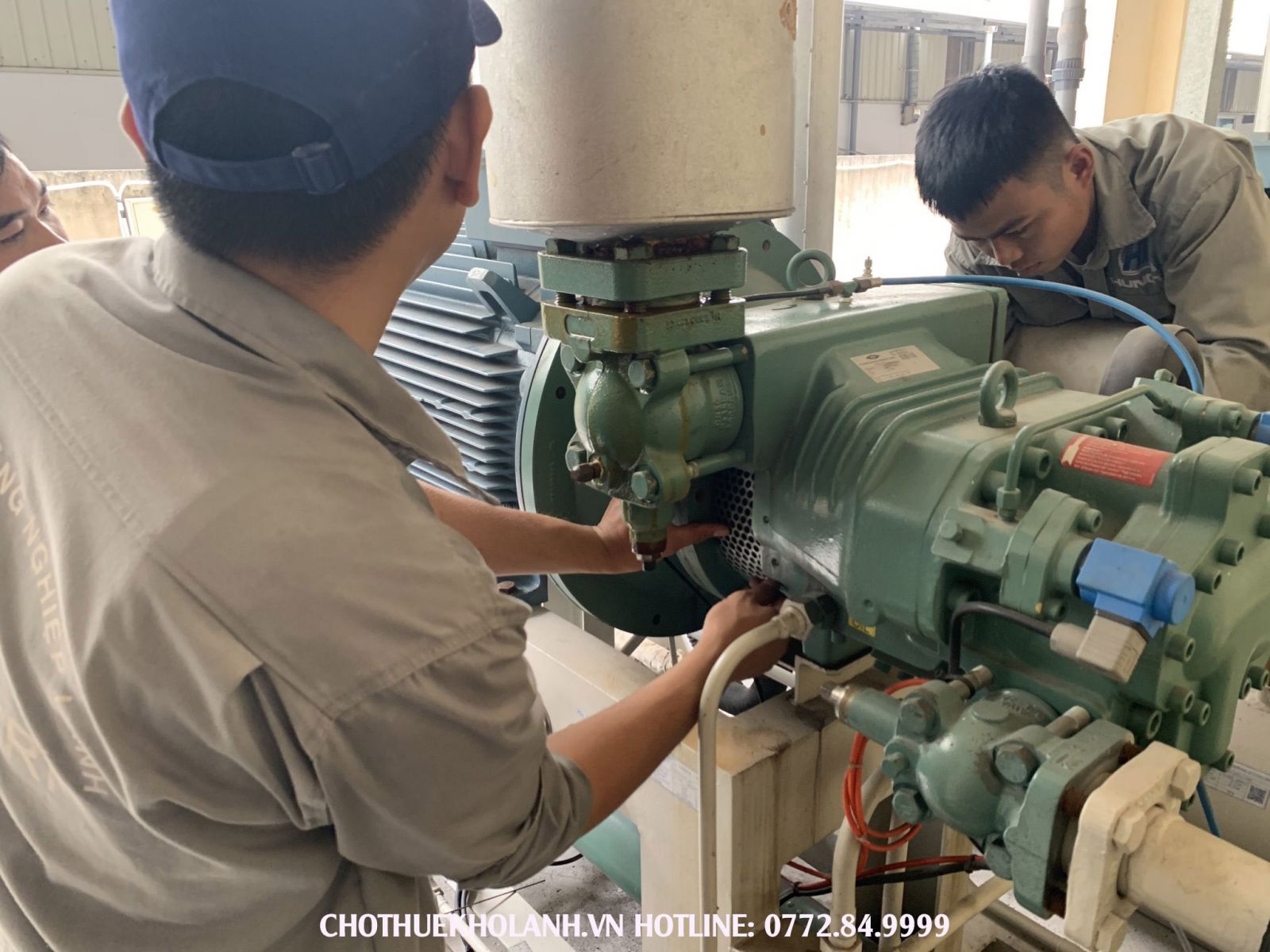 CONTACT INFORMATION
NAM HA NOI COLD STORAGE
Address: Quat Dong Industrial Cluster, Thuong Tin District, Ha Noi (located on the old National Route 1A)
Hotline: 0772.84.9999
Email: sales@chothuekholanh.vn
//=$page_title?$page_title:"Tin tức";?>