MINI FROZEN STORAGES: IS THE NEW SOLUTION FOR REFRIGERATED PRESERVATION REALLY EFFICIENT IN BUSINESS?
Using mini frozen storages is one of the solutions offered to solve the problem of insufficient frozen storage space of businesses. However, is this the optimal solution to help businesses save costs and limit losses? Let's find out in the following content with Nam Ha Noi cold storage.
As of 2019, Vietnam's retail market has more than 3,000 grocery stores (doubled compared to the same period in 2017-2018) and 2.2 million retail business households. 60% of them have more than 1 store/branch in the same city or surrounding areas. One-third of the products that these retailers deal in are perishables products, frozen food, meat, dairy and fruits products, etc.
As analyzed in the previous article (Storing frozen food properly), we are all looking for solutions to store frozen foods longer and better to reduce the loss that is preventing the enterprise development. In order to ensure that frozen goods are always well preserved, many businesses have been investing in mini frozen storages for their branches/store chains to prevent business loss.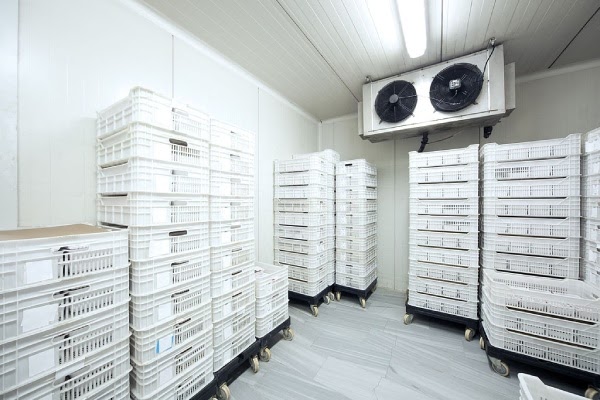 Mini cold storages are being used by several companies
To know more about this type of cold storage, let's find out more details in the next section below!

New storage solution called mini frozen storage
Mini frozen storage - a miniature version of industrial frozen storage, is considered a type of warehouse with a much better area and capacity than a cold room (another way of preserving frozen goods).
To clarify the difference between mini frozen storages and other forms of frozen storage, let's find out the features of this type of warehouse below:
About capacity: This type of warehouse has a medium capacity, often used to store products of the same type. For example: Mini frozen storage for fruit/vegetables/milk…
This cold storage is equipped with the same machinery as that of a large one.
All are used for the purpose of preserving frozen goods and storing the most intact goods!
Mini frozen storages with the temperature from -16°C to -20°C are used to preserve meat, fish, aquatic products, seafood...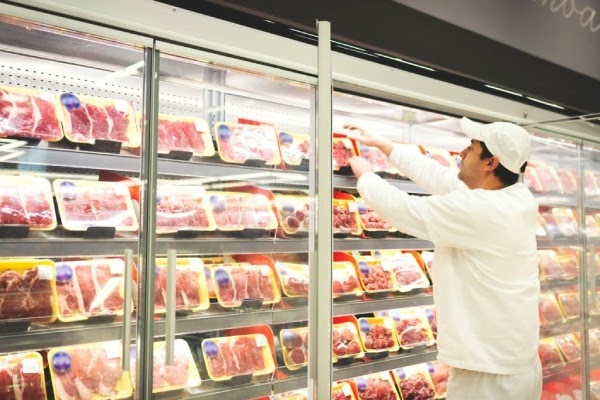 Mini cold storages are used to store perishable goods at the right temperature
Mini storages with the temperature from 0°C to 10°C is used to preserve products such as milk, fruits, vaccines, agricultural products, cheese and other refrigerated items.
Thus, we have basically visualized the mini frozen storages as well as the features of this type. Next, let's come to the important part of the article right below.

The benefits and inadequacies of using mini frozen storages in businesses
During the years of cold storage rental business, Nam Ha Noi cold storage has constantly compiled practical comments on the use of mini cold storages in the businesses. Here are the results we have gathered:
Benefits of using mini frozen storage in enterprises
This type of cold storage helps businesses to store bulk frozen goods in a better and most economical way.

Easily set the size according to your custom needs
Today, the development of science and technology has made this type of warehouse significantly improved, becoming easier to use and install. Businesses can choose from many available models of mini frozen storage, the most convenient to build a warehouse for their business. In addition, businesses can also choose and customize the size of the warehouse to suit their needs.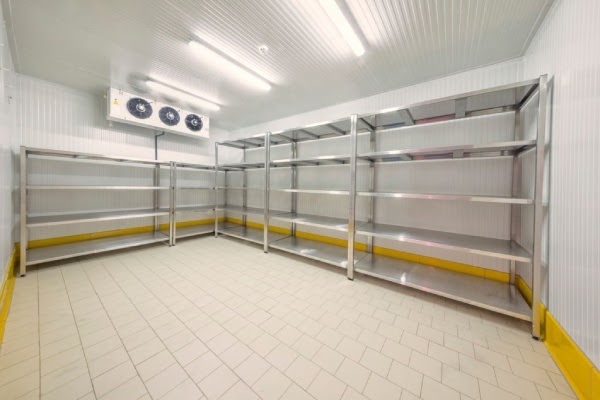 Businesses can choose the size of cold storage to suit their needs
Example:
A food import and export company is constructing a mini frozen storage with an expected volume of 3 tons or less. However, the company has expanded the store during the construction, and the grade is now increased to 5 tons. Thus, this company can completely adjust the capacity for the warehouse of 3 tons by adding 2 tons to be enough to preserve the new quantity, but only cost a little capital and additional materials.

Expanding the space for the business's store
In the past, businesses often used freezers and refrigerators to preserve frozen foods in stores. These refrigerators not only take up a lot of space, but they can also increase the temperature and noise during operation. They sometimes cause staff heat burns, difficult to clean as well as electrical leakage cases can also occur. In addition, the noise when the freezer is operating is easy to affect the store space.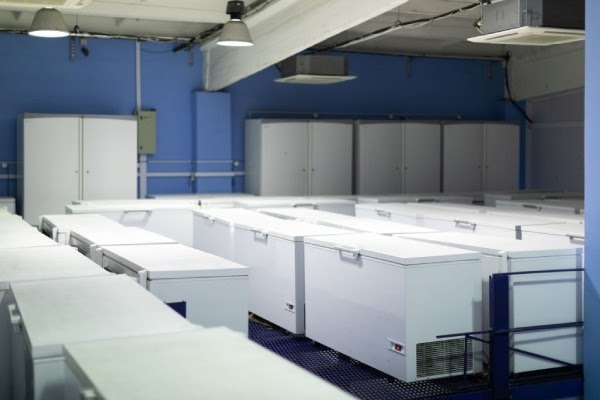 Refrigerators take up quite a large horizontal area
Instead of storing frozen items in cumbersome freezers that take up a lot of space and do not take full advantage of the space, small freezers will now help businesses more!
Businesses can divide areas for goods on different pallets. Thanks to these pallets, the space above is also utilized to the fullest extent. In addition, businesses can also take advantage of the closed, well-insulated space of the mini storage to make appropriate adjustments: Take advantage of the cold storage of the mini cold storage to keep it cold without operating the refrigerator continuously. This will minimize noise as well as unnecessary heat dissipation that this type of warehouse brings.
To have a more objective and accurate view of this cold storage type, let's continue to learn some practical inadequacies that many businesses encounter when using mini frozen storage in the next section below.

Inadequacies of using mini frozen storage in enterprises
Undeniably, mini cold storages have worked very well for several companies that do not have branches or stores in a certain area. However, for businesses with branch system spanning many districts and cities such as VinMart, KFC, Circle K, etc., it is very expensive to invest in cold storage for each store. Exept for the cost of operating machinery, maintenance and repair, hiring monthly workers to maintain the warehouse operation also "consuming" a lot of money of businesses.
In addition, transporting goods between cold storages without specialized vehicles or having but not transporting (without experience in transporting frozen food) can lead to loss and damage of goods.
Besides, a mini storage can only store and preserve a very small volume of goods. It is only suitable for grocery stores and small restaurants. As for supermarkets, hotels or large restaurants, they need more space to store goods, which can store both frozen and refrigerated goods.
It is these limitations that have made mini frozen storage a specialized solution for small stores but not large retailers with huge volumes. This has led to outsourcing services such as leasing industrial cold storage to develop and become an alternative choice instead of using small cold storage.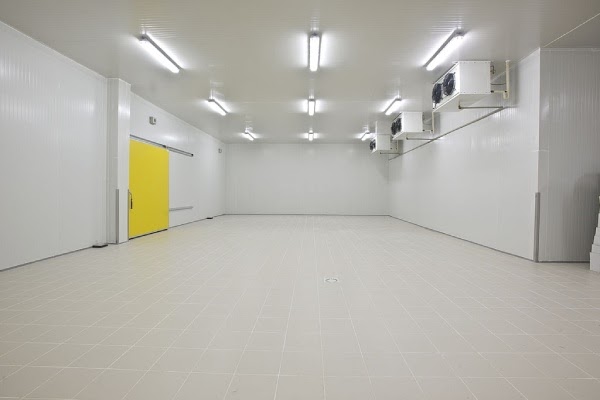 Industrial cold storage can hold a "huge" amount of goods
In 2020, due to the impact of the Covid-19 pandemic, the trading situation at chain stores of enterprises was slowed down. Instead, there is a competition on the technology platform 4.0. This change requires businesses to have a larger intermediate storage to be able to preserve and supply goods to customers in different regions. It will be much more convenient if businesses use industrial cold storages instead of mini cold storages to promptly preserve and transport goods to consumers.

Businesses should use mini frozen storages

The information mentioned above has given us an overview of this new type of cold storage. However, to know if your business should use cold storage, let's find out the following recommendations with Nam Ha Noi cold storage to make the right choice!
Enterprises operating in cold supply chains
A cold chain is a series of different operational processes that control and maintain goods in their original state from harvest to consumption. Companies in the cold supply chain may need this cold storage such as:
Farms: acts as a place to produce raw materials/supplies to create products. With large farm models with the "huge" output, it is necessary for farmers/farm owners to have a small frozen storage to keep their products from being degraded before processing/packaging companies found.

Farms should use mini cold storage to preserve agricultural products and meat
Purchasing/processing/packing companies: For companies purchasing materials that perishable items such as meat, fish, vegetables, fruits, etc., refrigerated preservation during the importation of raw materials is really essential. Before and after processing, businesses still need to keep the quality of fresh ingredients to pack into products and transport to branches/stores.
To do this, businesses need to use the mini storage to preserve products. However, if the amount of goods is too large, you should choose to use the industrial cold storage rental service. To find out the detailed information about industrial cold storages, you can visit here.
Distribution companies/retailers/chain stores: Distribution/retail companies with many agents/branches/chain stores are among the places that currently use mini cold storage the most. Frozen goods are imported and exported continuously, so a frozen storage is needed in the store to preserve the goods.
Distributors need a larger space to store their large amount of goods
However, as mentioned above, this use of cold storage may not be effective for companies with many stores or slow product sales, so businesses can use other solutions to store frozen storages.

Conclusion

With the above useful information, we hope that businesses have the right choice in cold storage and preservation. With many years of experience in the frozen food industry, Nam Ha Noi cold storage will continue to bring useful knowledge to businesses and readers who want to find out about the industry! For the best advice on cold storage, contact 0772.84.9999 today for more details. Let's share your knowledge, experience and useful suggestions with us by leaving a comment below.
//=$page_title?$page_title:"Tin tức";?>