THE IMPORTANCE OF DISTRIBUTION CHANNELS IN FROZEN BUSINESS
The frozen food distribution channels help manufacturers bring their goods to the end consumers through cooperation with organizations, businesses (B2B), retailers, and cold storage rental service providers, etc. to ensure that the output goods are of good quality at the most optimal cost.

Consumer demand for frozen food is changing...

Over the past two decades, we have witnessed a lot of changes in the needs of Vietnamese people including frozen food. From only using completely fresh food as before, modern consumers now accept and gradually get used to frozen foods in their daily meals. For example:
• A part of Vietnamese people, especially young people, love to go to restaurants or order food at home and they know that most of these foods are cooked with frozen food.
• Consumers are gradually having the habit of storing frozen foods in their refrigerators because of the convenience and long-lasting they bring.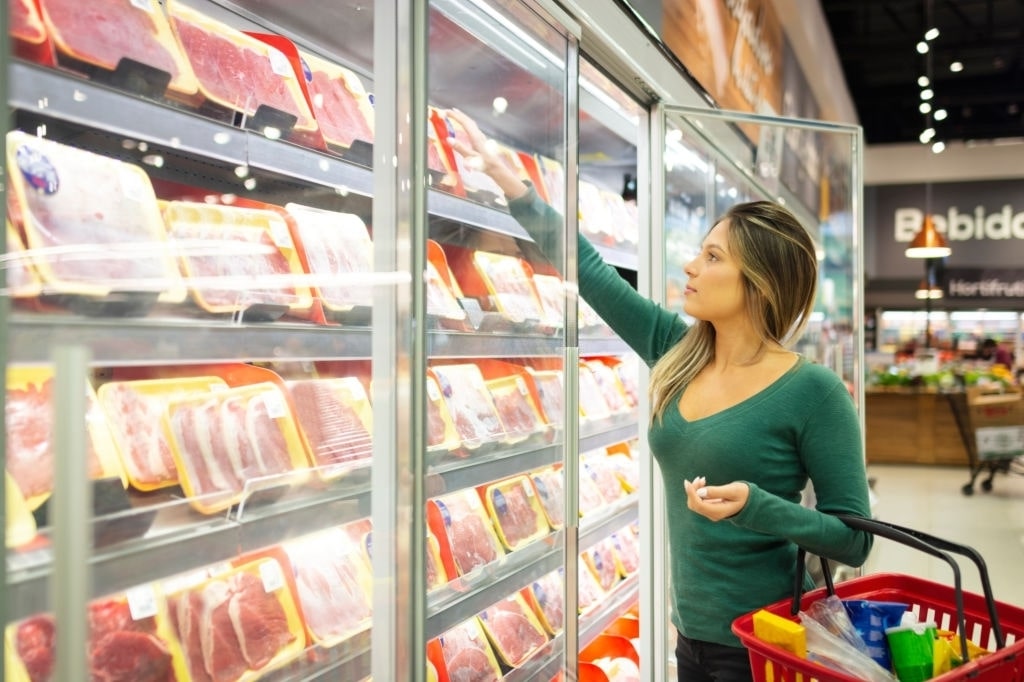 Frozen food has become familiar to consumers
• In addition, the purchasing method of consumers is also something that manufacturers and retailers concern. Customers today not only buy food at markets and supermarkets but also at grocery stores or online websites.
• Online food shopping and the development of new applications in the retail sector are creating great opportunities for the retail industry in general and for the frozen food market in particular. Because with the globalization of the Internet and the increasing use of mobile phones, the ability of businesses' frozen products to reach more consumers without the need for intermediaries as before.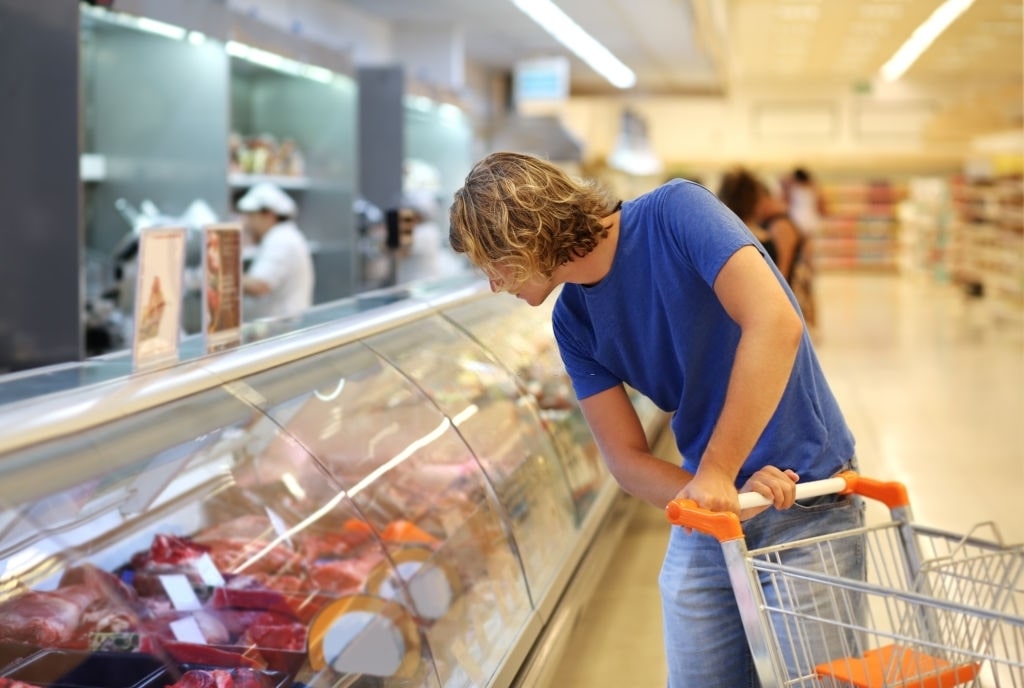 Distribution helps goods to reach more customers
This change of consumers leads to the prediction of many experts that the frozen food market will continue to "heat up" in the coming years. In particular, according to Allied Market Research (AMR), "The size of the frozen food market is being valued at 288.8 billion USD in 2019, estimated to reach 404.8 billion USD by 2027 at a Compound annual growth rate (CAGR) is projected to be 4.2% from 2020 to 2027."
You can get more details about the frozen market potential here: Frozen food market and great potential for business

The importance of distribution channels in trading frozen goods

A distribution channel is a collection of interdependent organizations and individuals engaged in the work of bringing products to consumers. In the frozen food trading, the distribution channel includes manufacturers, retailers, transportation companies, cold storage rental companies, etc. working together to form a closed system to bring products to the end user quickly and reliably.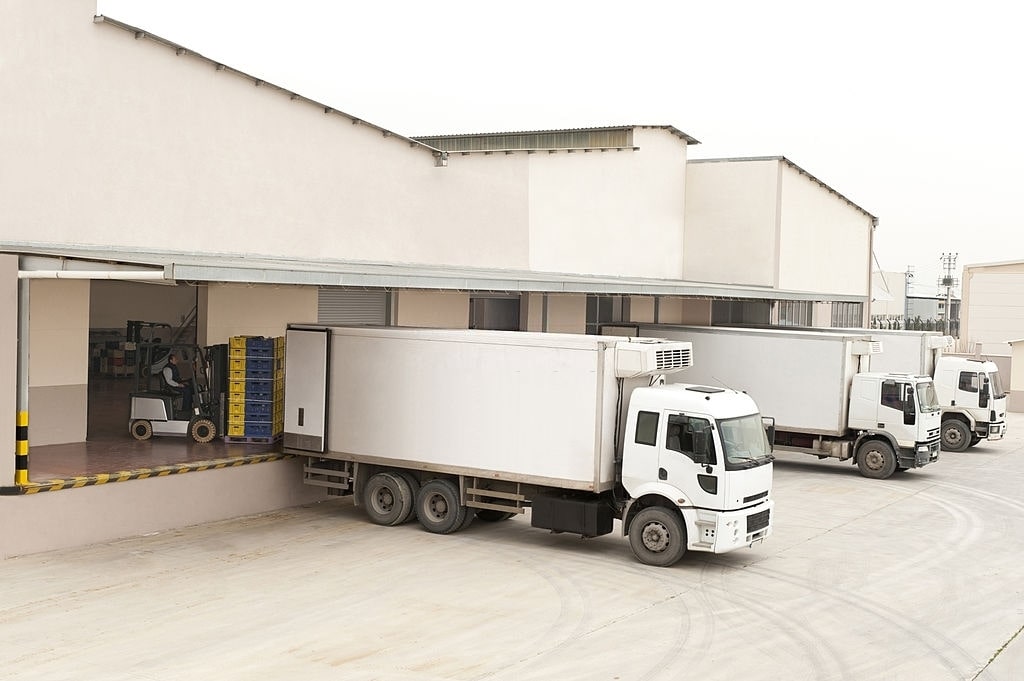 Distribution channels include transportation companies, cold storage rental companies...

A good distribution channel can create a competitive advantage and incredible profits for frozen food traders. If the product is new to the market, besides the factors of price, marketing program, sales promotion, etc., finding a suitable frozen food distribution channel is a very important factor for the success or failure of the campaign by:

• Opening up new markets: Opening up a new distribution channel or expanding distribution into new geographical areas can give new groups or new types of consumers access to our products or services of the company. For instance, a frozen pork producer that only sells its products in a CoopMart supermarket might decide to buy its own truck and start a frozen butcher business and sell it directly to customers.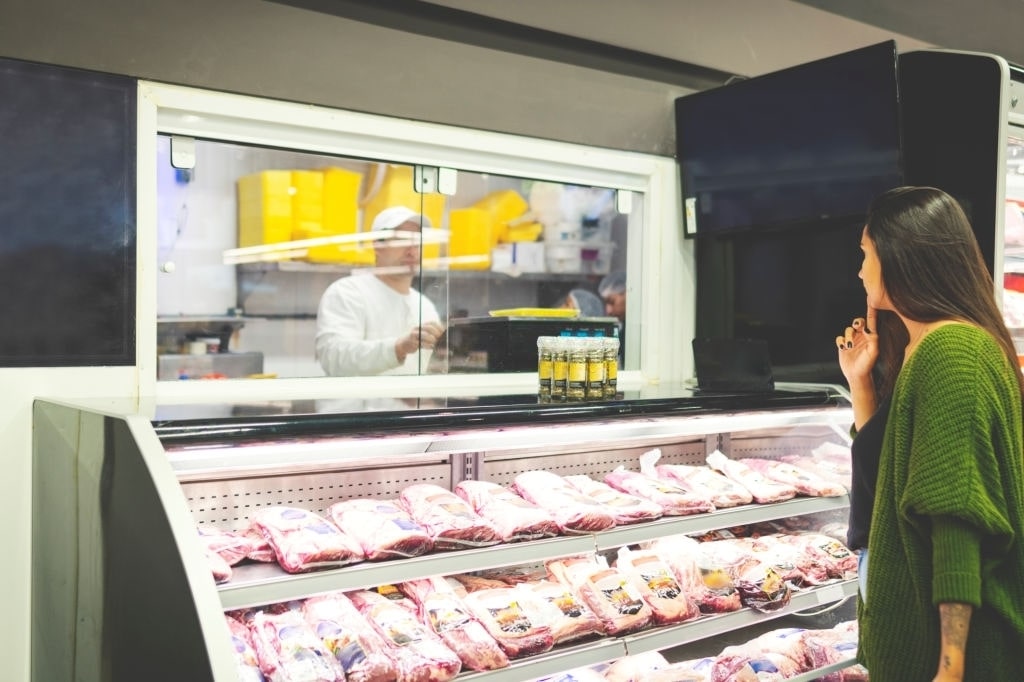 Distribution channels open up new markets for manufacturers
• Speed ​​up delivery: Faster delivery of a product or service is sometimes an advantage when dealing with frozen goods. Delivery speed combined with a direct-to-consumer business model can together create a new distribution strategy.
• Reduce costs: If a new distribution system or logistics services are improved can significantly reduce costs and improve profit margins, it is well worth pursuing. For example: If a retailer is operating a very costly store/branch distribution system, they can benefit by moving part of their sales to an online distribution system to save premises free, direct sales staff, etc.
• Reducing out of stock: If retail out of stock is a major issue in an industry or product category, a new distribution strategy may be necessary. Normally, the issue of out of stock must be attacked with one eye on marketing and promotional activities, and with the other eye on supply chain and logistics. What looks like a logistical problem could actually be a promotional problem (i.e., consumer promotions can cause out-of-stock issues).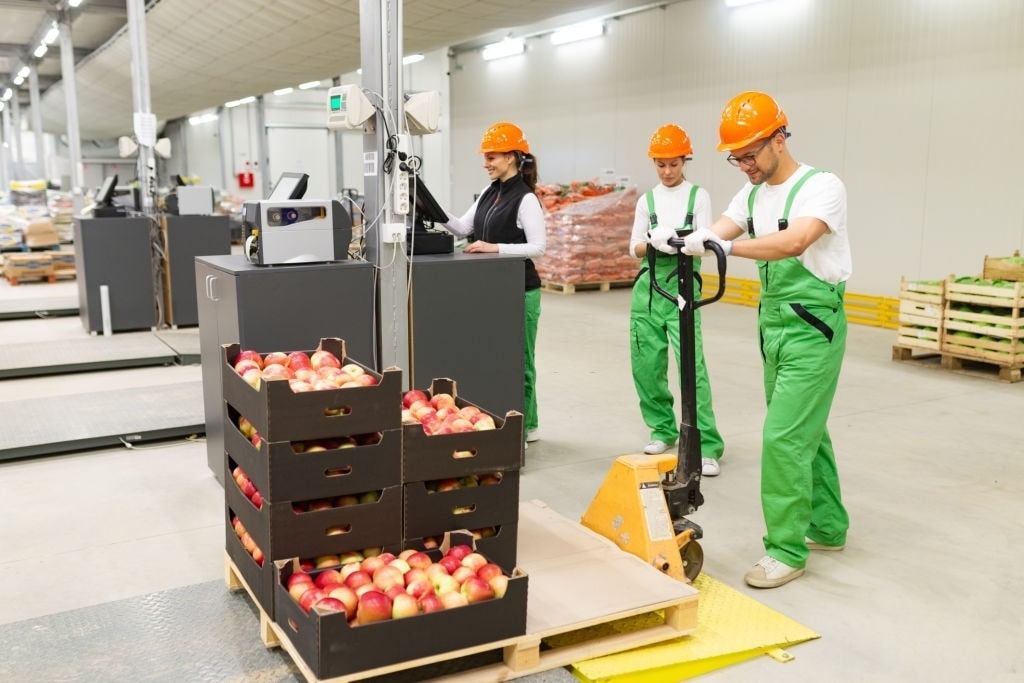 Reduce out of stock by a distribution channel
• Popularize the brand image: The types of stores in which a product is sold can shape and reinforce a consumer's image of that brand. For example, a premium brand of frozen meat and fish may choose to be distributed exclusively in high-end retail stores. In contrast, a brand targeting the mass market can seek distribution in every channel and every corner of the economy.
• Confront with competitors: If a manufacturer knows that a major competitor is planning to massively expand its online presence and direct-to-consumer business, they may actively expand direct-to-consumer distribution as a deterrent or delay tactic to curtail competitor action.
If in the previous stage, frozen goods manufacturers and retailers in Vietnam deployed distribution channels in a passive way (i.e. the factory start to sale the products only when they had the ability to produce or import a product), the distribution channel now has been calculated right after the ideas are planned.
According to Dr. Dao Xuan Khuong - a leading expert in the field of distribution, to avoid the above two errors when designing a distribution channel for new products, "Enterprises need to have a very specific implementation roadmap in each year to achieve two main goals of covering the market, increasing sales and controlling the flow of goods and product prices."
The role of industrial cold storages in the distribution channel

Firstly, when frozen food is imported from many different small and odd sources, cold storages act as a gathering point to consolidate into a large shipment. From there, businesses will gain the advantage of scale when continuing to transport to the factory/market by refrigerated trucks, wagons, refrigerated containers, etc.
Next, in order to well meet the orders with a variety of frozen foods of B2B and B2C customers, industrial cold storage is also responsible for separating the large shipments into many different orders, then sorting and packing them into a complete order, ensuring the goods are ready for sale. After that, each order will be delivered to the customer by small vehicles.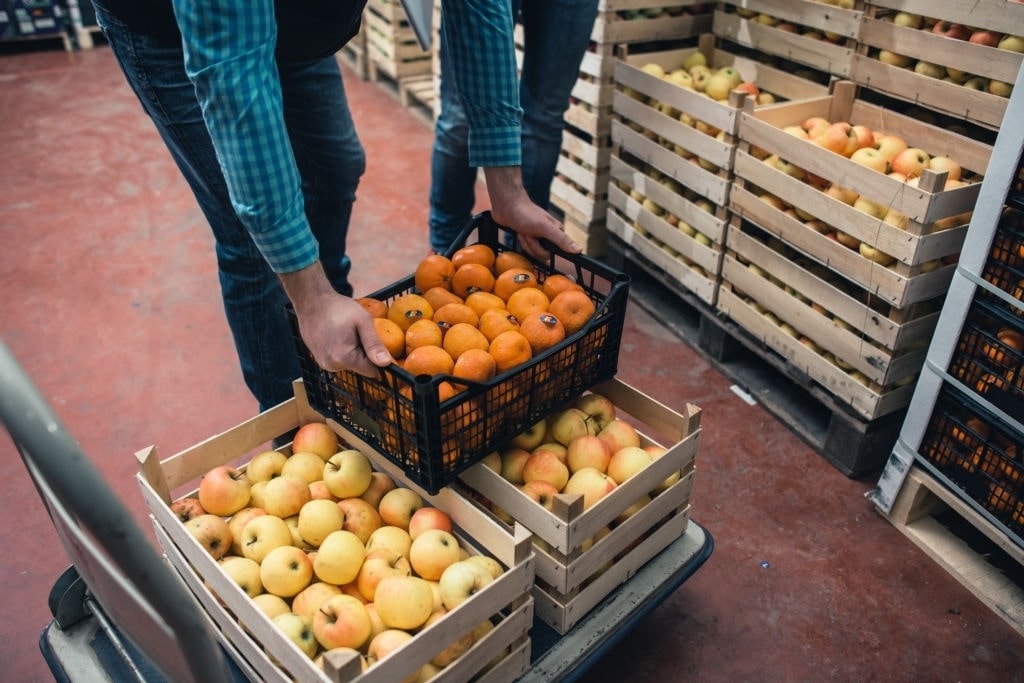 In cold storage, fruits are divided and packed from large batches
In addition, industrial cold storage will ensure the integrity of goods in terms of quantity and quality throughout the storage process; make the most of the warehouse area and capacity; take care of goods in the warehouse with the most care and detail.
Finally, a frozen food distribution channel with guaranteed cold storage will create a strong competitive advantage for an organization.
Conclusion

If your company is looking for a cold storage rental address in the North, Nam Ha Noi Cold Storage is definitely an ideal one for you to store frozen seafood.
Our cold storage is located at the Southern gateway of Hanoi capital, right at Quat Dong cluster, Thuong Tin district, Ha Noi City. Traffic is extremely convenient because it is located right next to the National Route 1A and near Phap Van - Cau Gie highway. This location is very good to go to neighboring provinces as well as to the city center.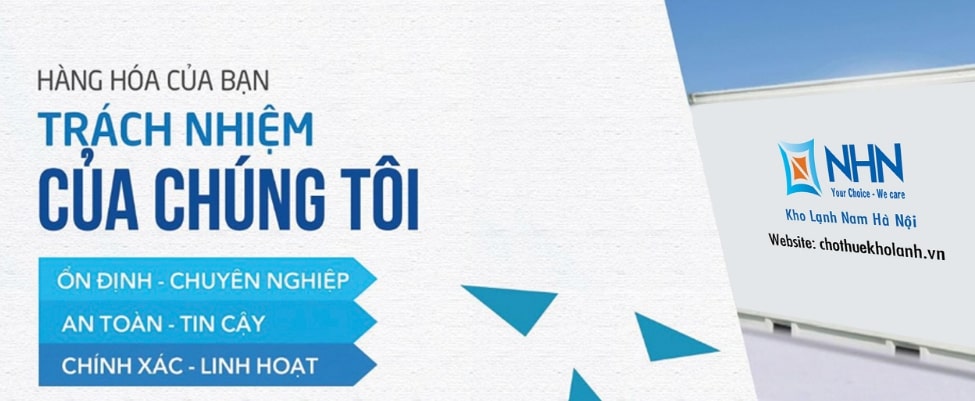 Besides, Nam Ha Noi Cold Storage has a fleet of qualitative refrigerated trucks, diverse in types and payloads with the license to circulate in Hanoi's inner city. Therefore, we always ensure to supply all needs and strict standards of refrigerated transportation.
Nam Ha Noi cold storage is designed with a capacity of up to 5000 tons of goods divided into 2 phases, including many independent warehouses with a capacity of 300 to 1500 tons per warehouse.
The temperature of each warehouse allows to be set from -30oC to 15oC, suitable for different types of goods such as fruits, agricultural and forestry products, frozen seafood and other temperature-sensitive items.
With the values ​​that we provide above, Nam Ha Noi cold storage hopes to become a partner and companion of frozen food businesses in the near future.
Come to Nam Ha Noi cold storage today to experience the best cold storage service!
//=$page_title?$page_title:"Tin tức";?>